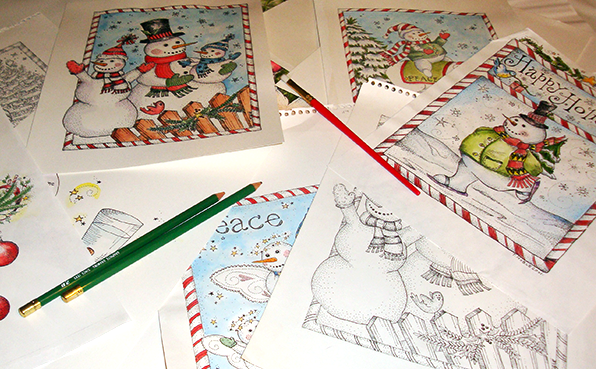 Inspired by the magic and spirit of the Christmas holiday, Tracey started designing her own Christmas cards in 1998, and has since featured a new Christmas design every year. The first edition holiday card is sent to a very long list of family and friends, and the card then joins the holiday line the following January.
Each card design starts with a magical idea and a black and white ink drawing. The drawing is then reproduced and color is adding using a watercolor technique. Once the artwork is complete, the card layout is designed.
A new holiday card is added to the line every year, however we are constantly adding to our line. Please check back for new cards and gift tags!
All cards feature high quality, archival reproductions of my original illustrations. Cards are printed using the Epson Stylus Photo 1400, featuring dye-based Claria Hi-Definition inks rated to last as long as 98 years behind glass and even longer in dark storage. Inks are smudge, scratch, water and fade resistant with superior color nuance and fidelity! All cards are then hand trimmed, scored, and packaged.
Are you looking for something custom? Contact Me!